Southwest Vastu Dosh [Defects]
Southwest Vastu Dosh [Defects]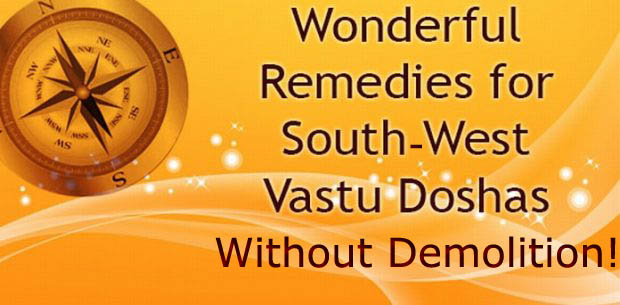 Southwest is one of the "most important" directions in the house according to Vaastu shastra. The ruling planet is Rahu. Sine Rahu governs luck, finance, health and stability; so any Vastu dosh (defect) in this Southwest part of house can leads to troublesome life.
Southwest Vastu Doshas and the Problems They can Create
Financial Issues: Loss in business, sudden and unexpected expenses, blocking of money. Inability to pay loans
Health Issues: Accidents – major or minor, mostly cause to injury in legs. These accidents may lead to fracture, paralysis or even amputation. Kidney related troubles.
Social Reputation: The relationship between husband and wife becomes bitter with frequent quarrels, destruction and disharmony among them. Husband or wife may cheat each other. Children may get involve in bad habits
Southwest Vastu Dosh listing
Toilet in South West
Remedies:
Keep toilet doors closed at all times.
Using "Gems therapy" in the Toilet we can remove this defect
Kitchen in Southwest
Place the gas stove in extreme Southeast part of the kitchen.
In the Southeast room (the concrete place of kitchen) create a mini kitchen and cook something daily, such as rice, making a tea etc. This will activate fire element in Southeast the correct location of Kitchen.
Paint kitchen with yellow or light brown color in Southwest Kitchen
Use minimum water within kitchen. Wash utensils etc. outside the kitchen.
Make sure that kitchen is at a higher elevation than remaining part of the house
Home entrance or main door in Southwest
Place Hanumatpujan Yantra + Haridra Ganesh Yantra on entrance area and Haridra Ganesh Yantra inside the entrance area
Bore well or underground water tank in Southwest
Use "Gems therapy" to remove this defect
If your house has any of these defects, please Contact us for rectification without physical demolition