Vaastu Shastra Tips For Compound Wall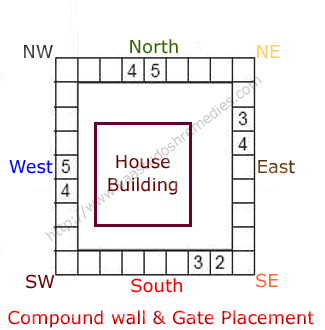 According to Vaastu Shastra, in every project, whether it is commercial or residential, compound wall is an unavoidable part of that construction. Making a Compound wall should be completion of house in all respect or in all aspects in terms of Vaastu Shastra.
The compound wall is a first layer of protection from unwanted newcomers in that house. Vastu Shastra has emphasized the requisite and importance of having a compound wall around the House which is also compliant with Vaastu principles.
Here are some essential Vastu guidelines while constructing a compound wall.
Muhurat for Constructing a Compound Wall:
Vastu shastra gives due importance to timing for the compound wall construction. According to Vaastu principles, a compound wall must be constructed immediately after the completion of water source, Bore-well and storage sections of the plot. The purpose of the compound wall is to stand as a protective layer, So it must be built before start of any construction at the site.
Construction Streamline: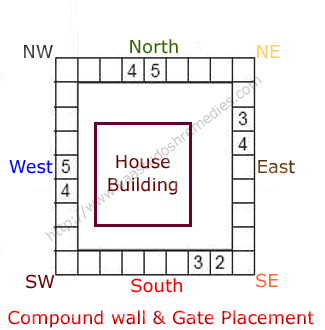 According to Vaastu principles the construction of a compound wall should be started from the South eastern direction. And it must be started on auspicious day and time. The timing of compound wall construction should equally treated like Bhoomi puja or Hose warming.
The actual building must be positioned in the South-west corner of the plot. In such a setting, the Northern compound wall can be left opened and the space should be used for stocking construction material.
Height of the Compound Wall:
Regardless of it's a residential or a commercial property, the compound wall should never be higher than the building. The height of the compound wall can cut the natural light incoming. Since sunlight plays an integral role in enhancing the positive vibes in the property, so a compound wall should never be too high, the ideal is 4-6 feet in height.
Thickness and Directions:
Since the South and West directions are should be heavy, So compound wall in these directions must be a heavier [Thicker] than the other directions. Apart from this South-western portion of the compound wall will gets direct contact with the
Sun rays, so making in thicker the South-west part there will be probability of absorbing the bright Sunshine. Thus having a thicker compound wall in the South and West directions can offer a cooler place in the summer season.
General Vaastu Guidelines for Compound Wall
There are four Peripheral parts of a Vaastu purush mandala as follows
Outer: Paishachyabhag
Second Row: Manushabhag
Third Row: Daivabhag
Center of the Plot: Brahmsthan
Paishachyabhag: No construction is allowed here being it's a Demon area, So it's essential to construct the compound wall in this area around the house.
In temples this area is used for "Pradakshina" marg.
Manushabhag and Daivabhag:  is used for constructing a House for the residence
Brahmsthan: In residential house it should open and can have Temples here
Once the compound wall is built according to Vastu Shastra, other important guideline as per Vastu is to avoid any gate in the southern direction.
Unless the land site faces the south direction, avoid a south facing entrance gate. Gates should always open in a clockwise direction.
Construct two gates instead of one for entrance. One gate can be used by habitants and the other can be used for vehicles.
But as if your plot is having slope towards South, West or South-west
And there is no existing neighborhood  constructions then first get your plot leveled and then build a compound wall before starting construction of main structure. 
The compound wall should not be rounded at the North-east corner though it can make an acute angle here. So it is safe to built avoiding rounded shape in any directions of the Compound wall.
Keep the height of compound wall more in South and West as compared to North and East.