Money is perhaps the most essential aspect in our lives. We cannot imagine life without wealth. For getting prosperity one must follow Vaastu Shastra tips to getting wealth and live with happiness.
According to Vastu Shastra, if you please Kuber, the God of Wealth, and obtain his blessings, you can improve your wealth in wellbeing and Prosperity inside Your House
If followed Vaastu Shastra principles correctly, it help to achieve and maintain peace and prosperity in that home.
Vaastu Tips for Getting Wealth
North-east portion of the house must be open and keep it Very clean all the times. Never construct a staircase in Northeast direction, which causes loss of wealth.
Never keep a dripping tap or plumbing as it drains out the prosperity of that house.
Never put or isolate shoes or slippers in front or around the main door of the house. Because energy that rides with air will spoiled due to dirt and smell of shoes, slippers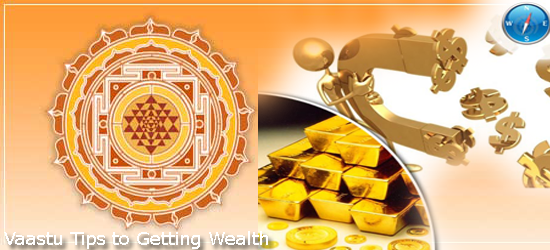 Always keep a good open space at the main entrance door, which allows free and clear air inside the house
Always open windows in the bedroom at least 20 minutes every day to come in fresh air, otherwise that will be damaging for peace and prosperity.
Set the cupboard that we use for keeping cash and Valuables in the south or Southwest direction of the house. Ensure that this should always open towards the North which is the empire of Kuber.
Clocks in your home should in working condition for all the time. Slow or stopped clocks indicate that, you are at the back in your daily work schedule always.
Keep the cleaning devices like brooms and mops inside or out of view, and preferably with upside down