Natural Slope of the Plot / House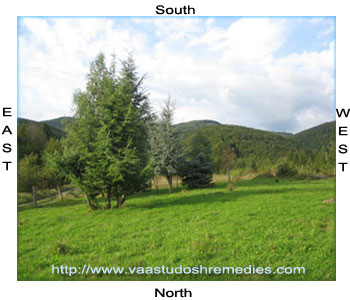 The slope of land / house fixes relationship with the economic well-being of the inmates. This land slope impacts directly on the income and expenditure of that family. The slope in case in the wrong direction can sweeps away income in the wrong direction also according to Vaastu Shastra.  
The Land slope in the North direction is considered to be superlative. And the slope in the East direction is also considered decent. Whereas the slope in South direction is considered harmful and slope in the West direction should totally avoided.
Any slight slope in the property will always in active and gives the results as Positive or negative.  The prominence is slow, but it is in long edging and the positive or negative effect will be there.  
If you see moderate slope in south or west, use the improving remedies to break the slope.
If the slope of the house or plot is considerable towards South or West, it should be taken seriously.  The best remedy is to build a retentive wall at the edge of the property to eradicate the defect or slope.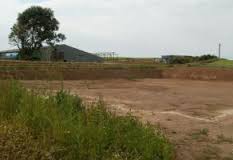 You can have more than one Walls depending upon the site situation. Fixing in footsteps remedial measure might also be used to ward off this slope
Herein we are giving the effects of energies surrounding the property. This Slope can have direct influence on overall progress of the family affecting on happiness and success.  
The energies flowing in property without proper orientation cannot gives you preferred success.  Some of these factors are very significant in physical and spiritual health also.
Elevation, Raise

[Slope Up]

Depression

[Slope Down]

Effects

West

East

Name and Fame, Good Offspring, Good Education and Career, Overall Prosperity

East

West

Sorrow from offspring, Obstacles in Education, Financial losses, Over all Defame every where

North

South

Severe Health problems and Financial problems

South

North

Happiness Prosperity and Well-being

North-East

South-West

If the North-east is higher, totally gutter out health, wealth and Prosperity.  Owner, his wife or elder son will become Financially and physically Weak.

South-east

North-west

If there is raise in South-east compare to North-west and North-east and less than South-west, there will be financial strength in that house

North-west

South-east

No good relation with friends and family members, Increase in Enemies and fear of Thefts, have to face unexpected legal allegation

South-West

North-East

Overall Prosperity with Good health, Success, Happiness, Education, Aptitude, Knowledge, Good Goings-on
For commercial Complex, land having slope in North, East, North-east and south-east, is considered auspicious. South-west should be at higher and North-East should be at Lower.
North-west should be higher than North-east and lower than South-east for commercial Vaastu. 
Land sloping in South-east are suitable for a hotel, restaurant, bakery, furnace and other projects selling in fire elements like electrical appliances, generators and inverters.
The land having slope towards the center part of the plot or depressions in the Brahmasthan is considered very inauspicious for any kind of construction whether commercial or residential.