Vaastu and Brahmasthan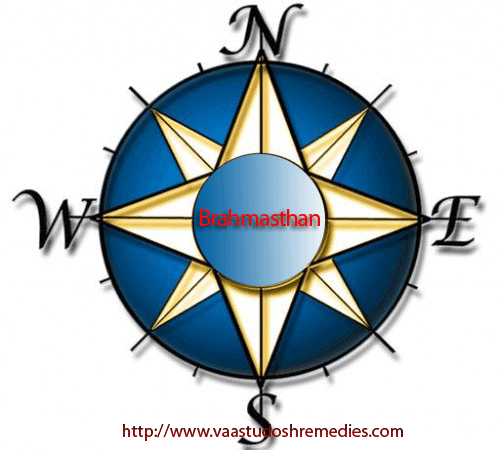 Brahmasthan – Center of the House, is an important element of ancient Vaastu Shastra. It is a central, holiest and powerful place of the house. All directions meet here at the centre [Brahmasthan] of the house and spread positive energy in all directions of the house, which is very essential for habitats in that house.  Brahmasthan is also a very important place for factories and industries.
For enjoying Prosperity, Harmony and Happiness in the house keep Brahmasthan Open and free from obstacles. 
In ancient time, our ancestors were often using to construct a courtyard in the center of house which was open to sky; the rooms were constructed around this courtyard.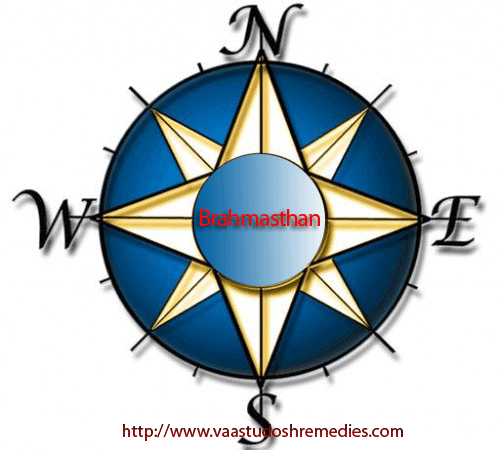 How to Identify Brahmasthan
Divide the plot into 9 equal parts from East to West and North to South. Now the plot is divided into 81 equal parts. The 9 squares at the center of plot are known as the Brahmasthan.
Tips for using Brahmasthan
Built Main hall, Pooja Room or Courtyard in the Brahmasthan – center of the house.

Under any circumstances avoid constructing the Toilets and Bathroom in the Brahmasthan.

Kitchen in the Brahmasthan [center] May gives bad effects on health of Inmates. 
Usually, in duplex houses Staircases are designed in the Brahmasthan of house. This will affect mental and financial growth of the inhabitants.

Pillar in Brahmasthan is Vaastu defect.   

Sleeping in the Brahmasthan will create confusion in the life of that person. 

There should not be a beam at the center of house.

Arches, store room etc. should never to be constructed in Brahmsthan.