Vaastu Tips for Foreign Tours, Job Search or Business Settlement
Now a day there is a big queue appears in leaving to foreign countries, which might for studies, software jobs / work or for pleasant trips / holidays / Business trips etc. Anyhow these days so many students/employees are expecting calls from aboard companies or foreign countries being they are interested to work there. In INDIA we have huge manpower, but due to one or other reasons we are unable to serve our mother land. Though India is one of the biggest country, regrettably, Indians are not getting a good jobs here (most of the contracts/works and jobs will go to the followers of the politicians) and they have to look for work in other countries. We will see how Vaastu could effect your foreign trip and job effect your foreign tours, jobs.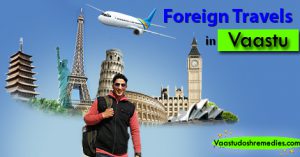 We have to search for work and have to show our capacity to work at anywhere in the world, it's very painful thing that we didn't get any support from the Government to have services for the intelligent people that is why most of the intelligence left India.
So, are you looking for foreign trip, Here is how Vaastu Shastra helps you for your desires.
According to Vaastu shastra, Northwest direction is deeply associated with foreign trips. Along with this, Northeast is also plays important role in foreign tours. By activating or strengthening Northwest direction you can get opportunities to fly foreign countries.
Increased or extended Northeast (Eshan) corner in your house / room can give you this opportunity.
Lowered Northeast (Eshan) corner than the flooring levels of the entire house will create opportunities for foreign tours.
Generally Northeast street focus [Vidhi Shoola] helps the residents for their foreign trip dreams.
All Northeast street focuses are not exactly works for foreign trips. Where the house is in 90° and there is considerable Northeast road push then there can be a chance of visiting foreign lands.
If that Northeast street focus land level is lower than the house floor level then there is high chance of visiting foreign lands.
If there is an extension or expansion in Northeast towards East side (East Eshan), that will helps in foreign trips along with it also develops name and fame in the society. This type of extension is not good if there is North street hit [North Vidhi Shoola or T Point].
If a property has a West of Southwest, Street Focus then there are no chances of visiting foreign countries.
In certain cases where the properties have a sump in Northeast and / or North of Northeast, the chances of foreign trips will increases.
In apartments where West is completely covered boundary wall, will also create opportunities for foreign trips.
More open space in East, will also helps to get foreign trips.
If the house is built in the Southwest area and there is slope towards Northeast this also helps to have foreign trips opportunities.
Though having street focus in East of Northeast, residents can get obstacles in their foreign trips if they have Main entrance door in East of Southeast-east [East of Southeast defect].
Foreign trips can be materialized when there is a perfect Vaastu along with horoscope support.
So you are looking a solution for foreign trip then Contact experienced Vaastu consultant for any help.