A house fulfilling Vastu Shastra principles brings good health and happiness. However, due to one or other reasons there may take place some defects in any part of the house. In that situation Tulsi can certainly play very important role to evaporate all the Vaastu defects (dosh)
Plant a Tulsi in that direction where Vaastu dosh in the house. Tulsi consist many Micro-nutrients. And also mercury, which is having Metal and liquid, due to this attributes, and because of metallic characteristics it works as an exclusive cleanser. Tulsi is also works as air ionizer (improves quality of the air in that room.) It purifies air and revert it back negative energy to remove the Vaastu Dosh; and fill up with the positive energy. The Blue Green energy circles are the indication of having positive AURA of the Tulsi, which prevents the Vaastu Dosh of the area, because of its property of the having high spiritual power.
Vaastu Dosh Remedy 
In order to avoid the harmful effects of the Vastu Dosh on health, one or more Tulsi must can be planted in each balcony of the flat and in Northeast of house.
While constructing a house if we put Tulsi Roots in the basement, it prevents all bad effects, which may otherwise cause due to Vaastu defect.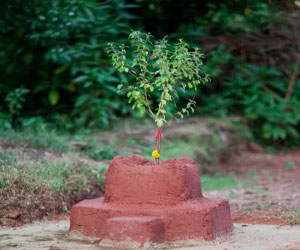 If we put a Tulsi in the house anywhere and that's not evaluating properly, it is the indication of some Vaastu Dosh [defects] may have in that house.  One can identify or check Vaastu Dosh using this simple remedy in their House. Offer Milk to Tulsi plant on Purnima day to reduce Vaastu Dosh 
Health Benefits: By taking it with tea it works as a medicine and prevent from cough, bile and gastric problems. It produces light yellowish, green-transparent oil, by dipping it in cotton lint and by keeping it in drawing room, place of worship or in study room it works as a perfume and spreads out positive Vaastu energy.